The Toyota Camry steering wheel is the part of the steering system that is manipulated by the driver; the rest of the steering system responds to such driver inputs. This can be through direct mechanical contact as in recirculating ball or rack and pinion steering gears, without or with the assistance of hydraulic power steering, HPS, or as in some modern production cars with the assistance of computer-controlled motors, known as Electric Power Steering.

Adjustment procedure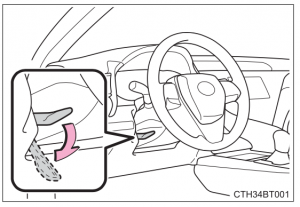 Hold the steering wheel and push the lever down.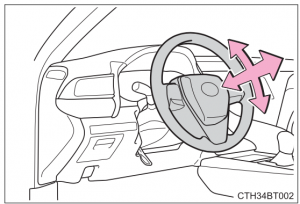 Adjust to the ideal position by moving the steering wheel horizontally and vertically. After adjustment, pull the lever up to secure the steering wheel.
Horn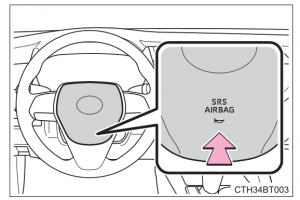 To sound the horn, press on or close to the symbols mark.
WARNING
Caution while driving
Do not adjust the steering wheel while driving.
Doing so may cause the driver to mishandle the vehicle and cause an accident, resulting in death or serious injury.
After adjusting the steering wheel
Make sure that the steering wheel is securely locked.
Otherwise, the steering wheel may move suddenly, possibly causing an accident, and resulting in death or serious injury. Also, the horn may not sound if the steering wheel is not securely locked.